EXCAVATION CONTRACTOR | MAAS INDUSTRIES LLC
---
Whether carving our expansive crevices made by nature, or unearthing unstable soil for future building pads to rest on, MAAS Industries LLC has the equipment and expertise to dig through even the most challenging of sites. Once the soil has been excavated, we can import dirt, compact it and if necessary, use methods of soil stabilization.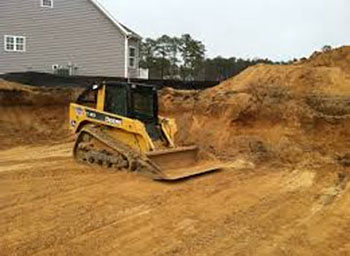 Before we get to the business of digging, however, there are several steps that must take place to ensure project success. First, significant surveying and testing of the soil (there is a tremendous amount of variability in Arizona) is required, as is obtaining the proper permits. Identifying utilities from records and visual examination is also required.
Taking preventative measures to minimize dust and storm water pollution on site prior to excavation is critical to ensure we remain environmentally friendly. Should your site require land clearing, grading, trenching or demolition, we can work with you to develop a full-service site development package.
EXCAVATION TYPICALLY INCLUDES:
Cut and backfilling as needed
Setting out corner benchmarks
Surveying ground and top soil levels
Excavation to the pre-approved density
Constructing wells and interconnecting trenches
Constructing storm water pollution prevention bunds and drains
Choosing an experienced contractor is one of the most important factors in excavating. At MAAS Industries LLC, we pride ourselves on providing our clients with quality, efficient site work services; all at an affordable cost. We are committed to utilizing cutting-edge construction methods and technologies. Contact us today at 602.531.7280 to learn how we can assist you with your excavation project. We provide free estimates.