DEMOLITION | MAAS INDUSTRIES
---
At MAAS Industries LLC, there is nothing we cannot demolish! We offer complete demolition services for government, commercial, institutional, industrial, and residential clients in and around Phoenix. Our job is to help communities remove potential eyesores, so that new developments can rise-up in their place.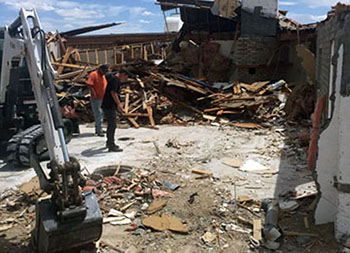 Working closely with preservationists, city officials and/or community organizers, our trained demolition crew uses specialized equipment equipped with the latest in technology to maximize a project's safety, control dust, and remove hazardous materials. We do all of this with an exceptional level of precision.
TOTAL ARCHITECTURAL DEMOLITION
Regardless of size, we can demolish entire office buildings, parking garages, and other structures that have sat vacant for years allowing new community developments to rise-up in their place. This includes removing the structure's footings, foundations, basements, utility tunnels, loading docks, landscaping, and all other improvements.
SELECTIVE ARCHITECTURAL DEMOLITION
We also offer selective architectural demolition for those who have simply reimagined their space. Selective demolition may also be used following a damaging fire. This service often saves home and business owners time and money. With our help, a building can be restored to its former beauty, and enjoyed by the inhabitants again.
OUR DEMOLITION SERVICES INCLUDE:
Land clearing
Concrete cutting
Historic preservation
Selective architectural demolition
Total architectural demolition
Swimming pool and/or spa demolition
Choosing an experienced contractor is one of the most important factors in demolishing residential, commercial or industrial construction. At MAAS Industries LLC, we pride ourselves on providing our clients with quality, efficient service, and precise demolition services at an affordable cost. Contact us today at 602.531.7280 to learn how we can assist you with your demolition project. We provide free estimates.